Süleyman Ferit Eczacıbaşı Şifa Pharmacy
SÜLEYMAN FERİT ECZACIBAŞI ŞİFA PHARMACY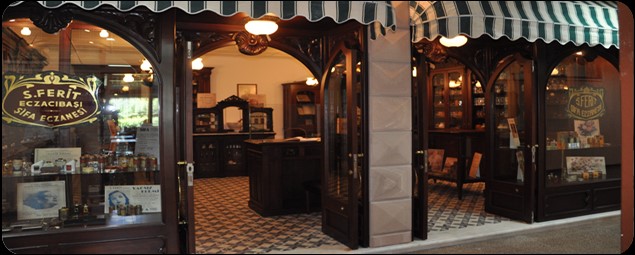 Süleyman Ferit , an idealist, patriotic Turkish pharmacist, who started his career as the youngest pharmacist of the Ottoman Empire, pioneered the beginning of a new era in Turkish Pharmacy at Şifa Pharmacy, while on the other hand, he integrated with his compatriots and contributed to the social and cultural life of the city he lived in. He has made a significant contribution as a community volunteer.
Şifa Pharmacy, where the pharmacy service offered to the society is kneaded with love of country and social responsibility, carries important messages to young pharmacist candidates who will be the leaders of the society, and young people of İzmir, with its historical identity and what it has brought to our profession, our country and our city within this identity.
We would like to express our gratitude to the esteemed Eczacıbaşı Family for their unwavering support and efforts for Süleyman Ferit Eczacıbaşı Şifa Pharmacy to be brought back to İzmir and exhibited in our Faculty.
While inviting you to a pleasant time travel in the history of pharmacy, we once again commemorate Süleyman Ferit Eczacıbaşı with mercy and gratitude.
After Istanbul, İzmir was the most important province of the Empire in terms of hospitals and pharmacies in the Ottoman Period, as well as the most important herbal drug trade center.
In İzmir, the first pharmacies in today's sense began to be opened since the 19th century, and all of the first pharmacy owners were non-Muslims.
In 1890, there were about 40 licensed pharmacists in İzmir, all of whom were from minority backgrounds. During this period, the population of İzmir was around 500,000. Turkish Pharmacists, on the other hand, had started to open pharmacies in Izmir from the beginning of the 1900s.
By 1922, there were 50 pharmacies in İzmir. Only 4 of them belonged to Turkish pharmacists. One of those pharmacies is Şifa Pharmacy, owned by Süleyman Ferit Bey.